How to Add Learners
You can add a Learner account to the application by filling in the basic details of the Learners.
Click the learner icon

on the dashboard or the icon on the left navigation bar. The Manage Learner page appears.
Note: By default, only active learners of all branches and all branches are displayed on the screen.
However, you can display the learner's list as desired, by applying filters (choosing the drop-down menu options at the top section of the page).


For example, you can choose to display learners who are inactive, whose account is pending approval by the administrator, learners belonging to a particular branch or batch, and so on.

Click

ADD NEW LEARNER on the right panel. The ADD NEW LEARNER window pops up.


Click on

ADD NEW LEARNER

from the right panel. The

ADD NEW LEARNER

window pops up.

Specify the following details of the Learners:

Learner name –

Enter the full name of the Learner

Learner email –

Enter the email address of the learner

Phone –

Enter the phone number of the learner

Password –

Enter a password that the learner can use to log in to his profile, or click GENERATE

Password

should satisfy the following requirements:

- min 8 characters and max 20 characters.

-Numbers

-Special characters

-Uppercase

-Lowercase

PASSWORD

to get a system-generated password.

Choose Branch –

Choose a Branch name from the drop-down menu.

Send an email to Learners –

Select this option to send the profile details to the learner's email address.

The learner is created from the admin side and if the admin wants to give the option to reset the password for the learner, the admin can enable the checkbox shown below so that the learner can reset the password during the login time

.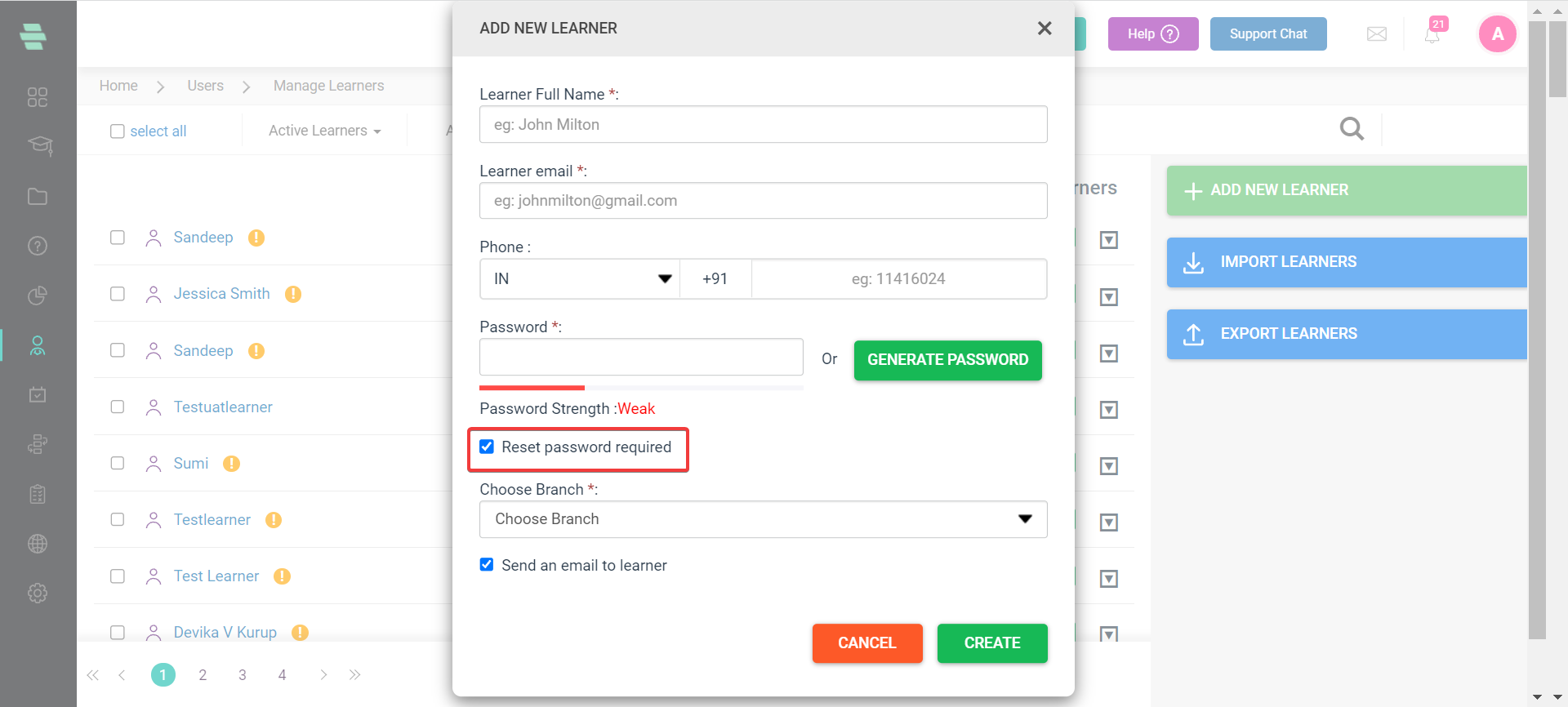 Click on

CREATE

.

Note: You can search for a learner by typing the partial or full name of the learner in the search box and then clicking

at the top right corner of the page.