After a file is uploaded, the contents of the file appear on the left panel. The basic settings and the content dripping options appear on the right panel.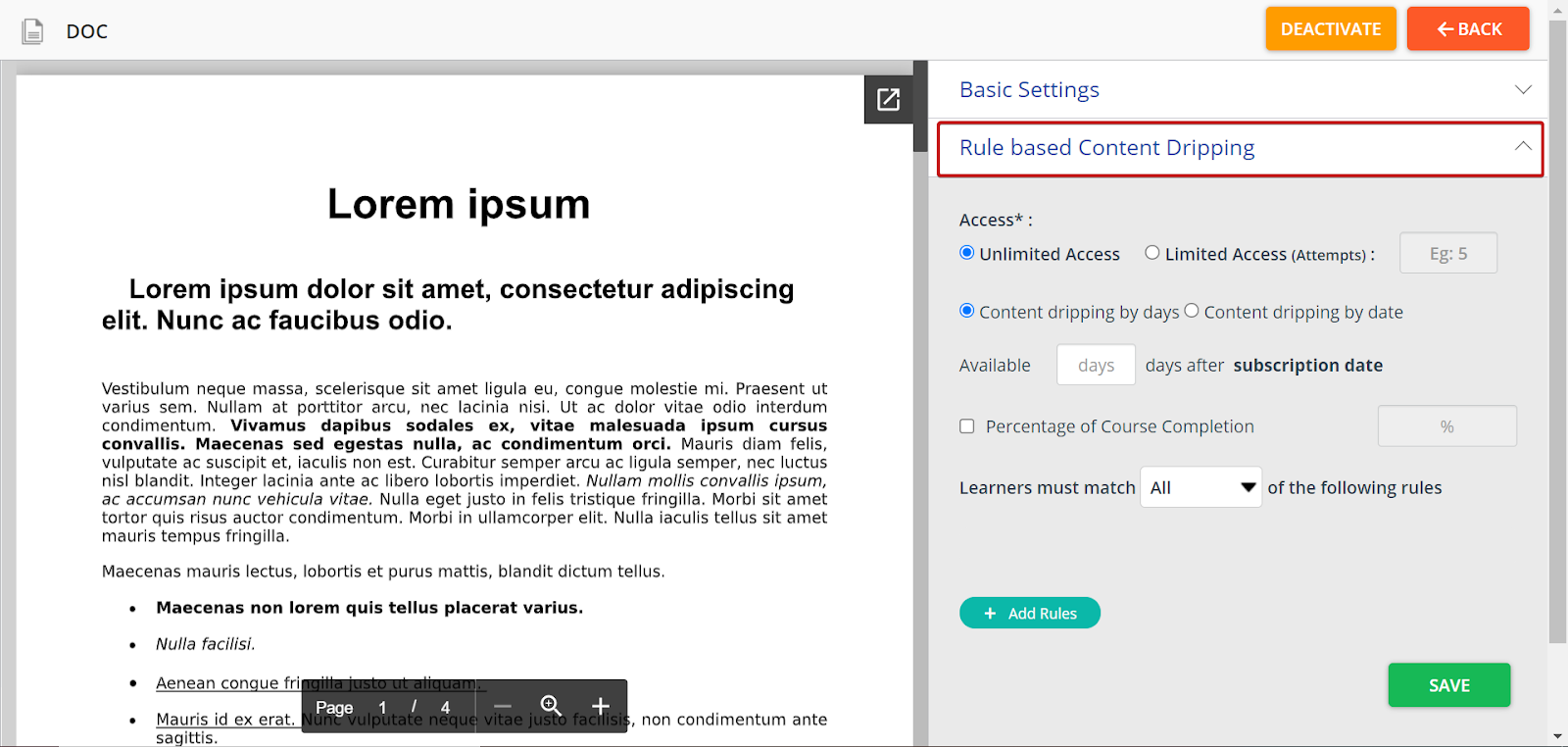 Review the

Basic Settings

of the files. Edit them if required, else retain the existing values.

Click

Rule-based content dripping

to expand and view its options.

The lecture access can be made unlimited or limited

This lecture/content can be made visible up to a certain day/date and later can be made inactive/dripped.

Admin has also the privilege to make the learners attend this lecture after the desired percentage of course completion.

Content can be made available up to a certain date or days.

In

Learners must match the following rules,

choose an option from the drop-down to specify rules.

All –

Choose this option to restrict Learners to match all rules seen below this option.

Anyone –

Choose this option to restrict Learners to match anyone rule seen below this option.

Percentage of Course Completion –

Select this option and specify the percentage of the course that the Learners must complete.

To add a new rule to the lecture (file), click ADD RULES.
Choose the lecture and a rule for it from the available drop-down menus.
To add more rules, repeat step 5 and step 6 in this procedure.
Click SAVE. The lecture is uploaded with the specified rules and displays Inactive status, by default.
Repeat this procedure if you want to specify access restrictions to all supported file formats that you upload to a section.
To add support files into a lecture:
We can add Support files like pdf,png,mp3,etc. By the following steps:
Click on Support files bar

Click on 'Browse' button to add files

Save option allows you to make the changes