With role management, you will be able to create your own custom-tailored roles for your preferences. You will be able to see the default roles and the profiles you create in the facilitator option on the dashboard, where you can add new facilitator profiles to our platform.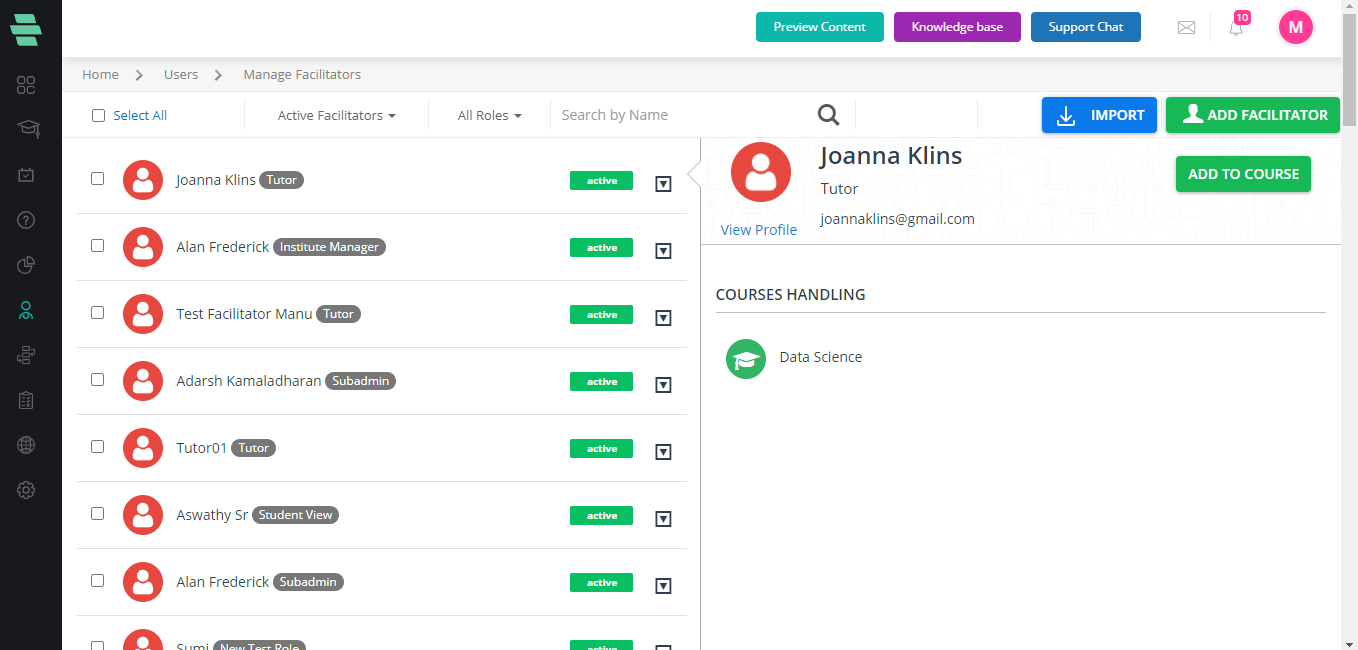 To add new roles click on the Users in the sidebar, then to Role Management.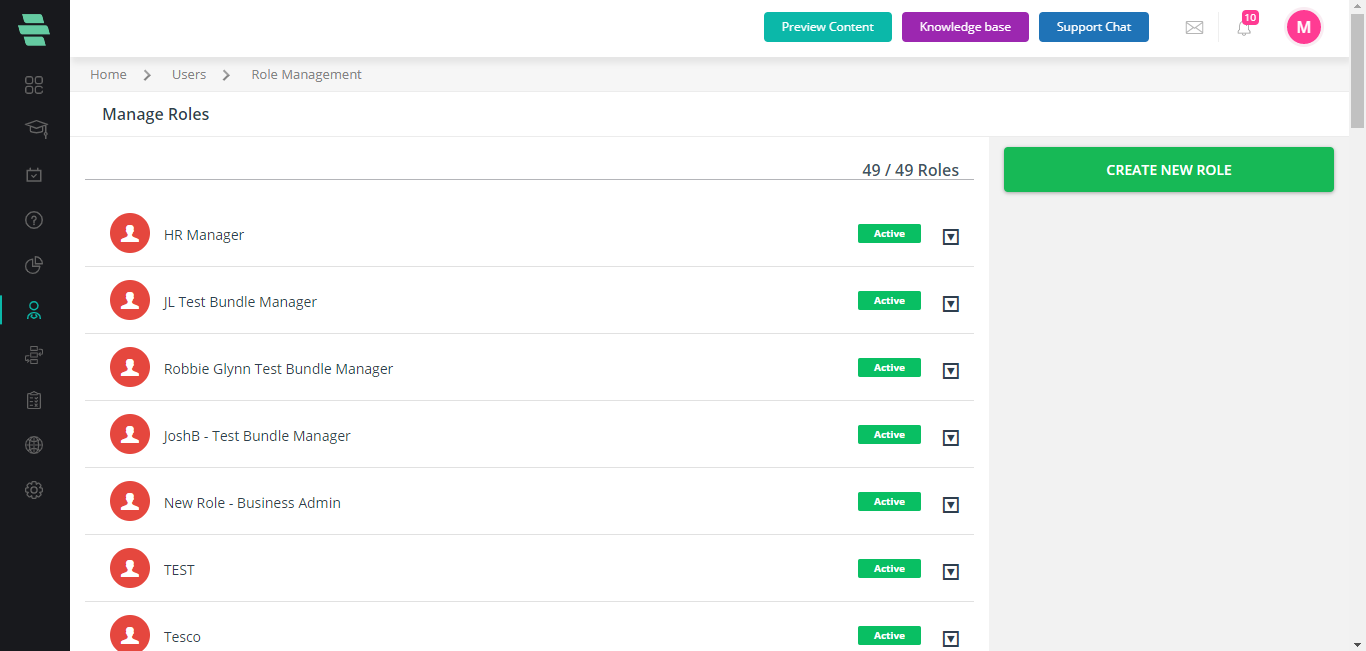 Clicking on Create New Role will guide you through creating new custom roles by entering the name of the role you wish to create, and will be redirected to the following page you can choose the checkboxes as per your preferences.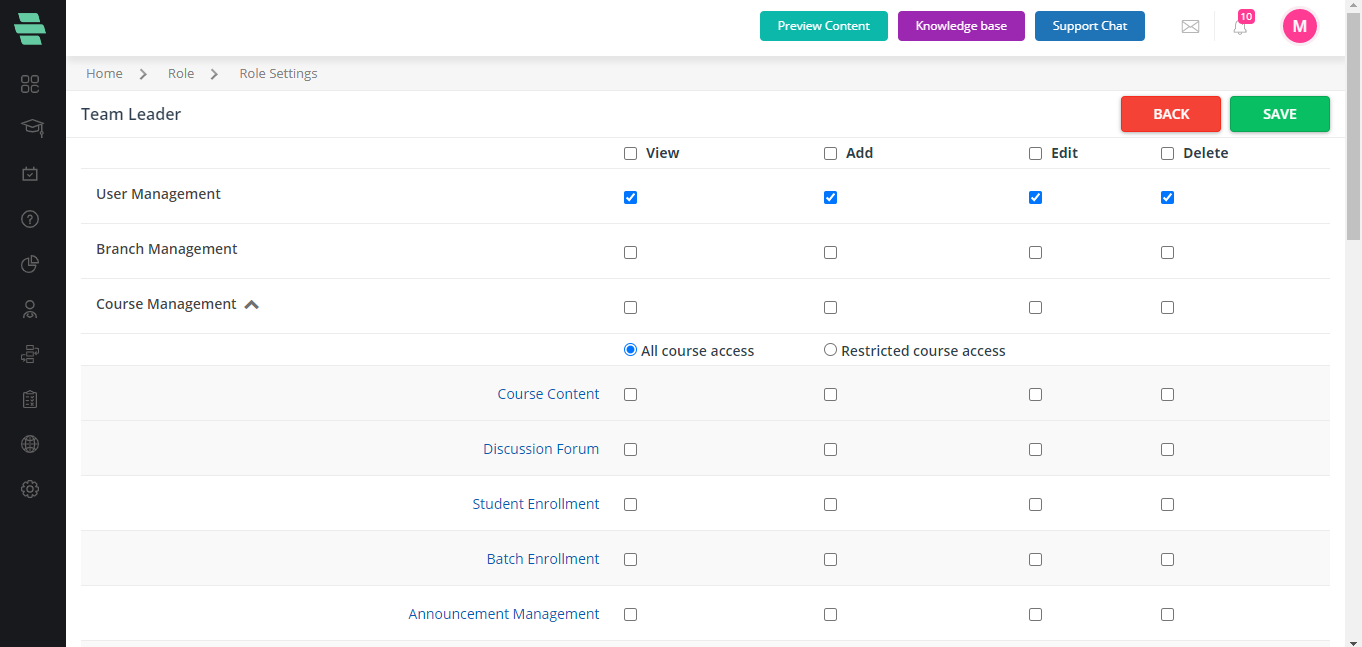 The checkboxes present here will determine the areas the roles created will be having access to. You can create new roles and provide access to specific areas based on your requirement.
User management: Will have the access to manage various roles which are created using the role management option
Institute management: allows for managing various Branches/Colleges/Schools which are created within the same platform.
Course Management: By enabling course management, the newly created role can access various courses.
There are all course access and Restricted course access
In restricted course access, the role will only have the access to those courses which are being assigned to them.
Batch Management: A group of students is known as Batches. By enabling the checkbox, batch management is possible.
Event management: Helps to notify the learners regarding the upcoming events.
Question Bank Management: Helps in accessing the questions from the question pool
Faculty Management: Provides the permission to control all the roles present in the facilitator icon.
Reports Management: Roles that have Reports management access can view/Export the report of Assignment/Online Tests etc.
Discount coupon: These roles can create a Discount coupon for marketing purposes.
Bundle Management: A set of courses is known as Bundles. These roles can create and edit the Bundles.
Page Management: Pages help in displaying the information on the login page.
Information Bar Management: Helps in notifying learners regarding any message that needs to be conveyed.