With Mykademy marketing features, you will be able to create your own Discount Coupons for your learners.
In the admin panel, the bulk discount coupon option has been omitted and integrated with the create discount coupon pop-up itself. The discount coupon option displays all the existing coupons on the platform. Also, on clicking the coupon, the code gets copied.
To access Discount coupons, click on Marketing followed by discount coupons.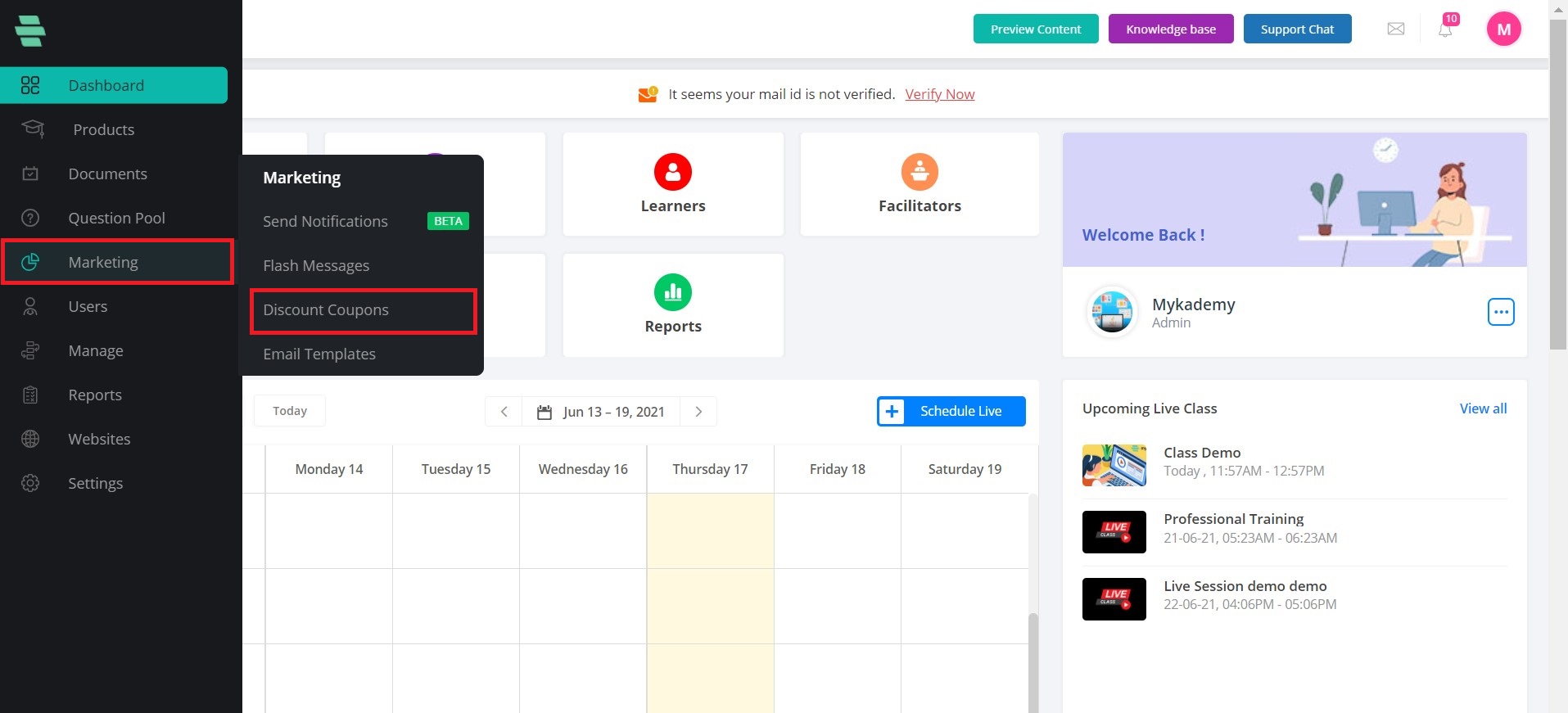 You will be able to see the list of all the available Discount Coupons and clicking on + Discount Coupon will help you create your new coupons with a pop-up screen.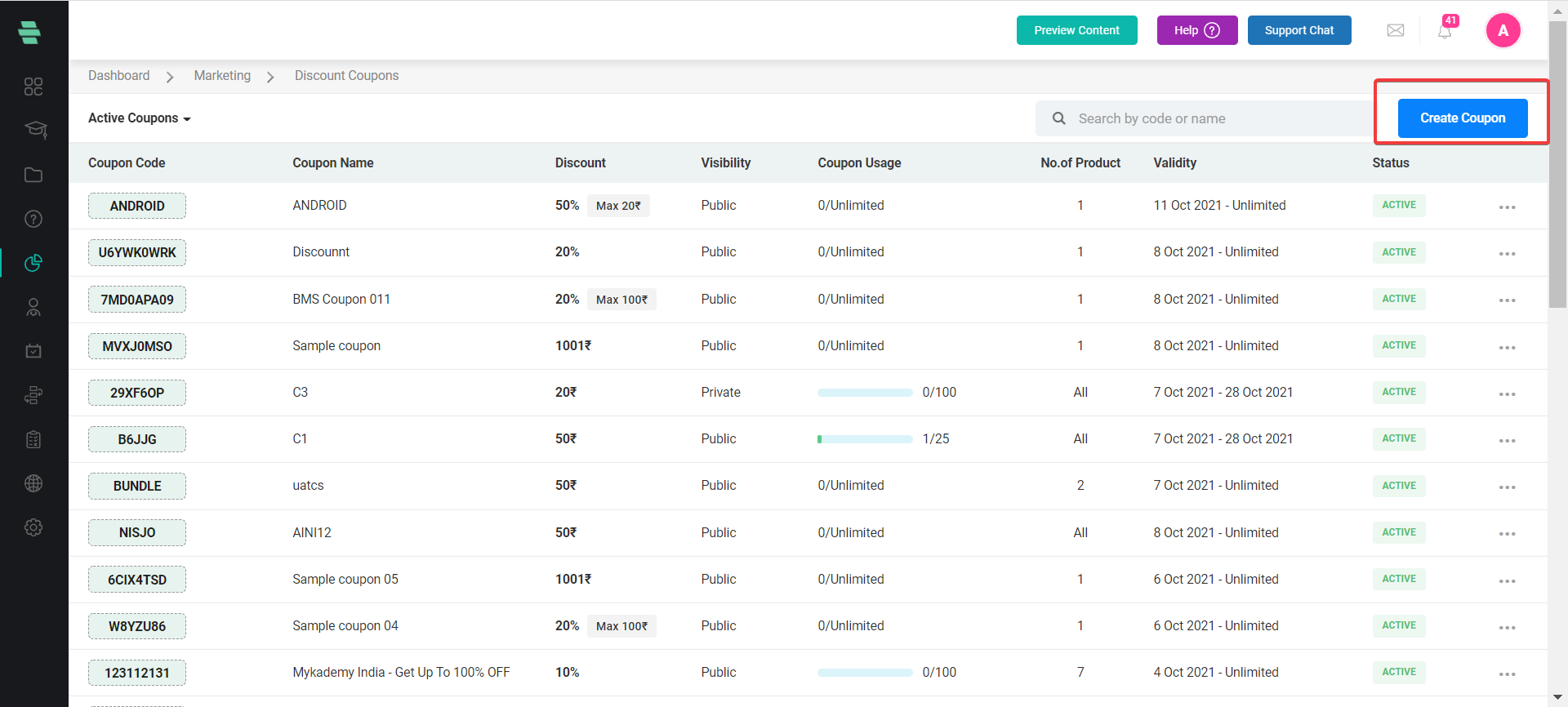 With the pop screen, you will be able to name the discount coupon,
Click on the Discount coupon so that a new coupon can be created.

Enter the name of the coupon

Enter the Coupon Code. You can also generate the coupon code by clicking on the Generate Code option.

Enter the Coupon Description.

The coupon can be made Public or Private based on the requirement.

The Discount can be made by Percentage or by amount.

You can give the Maximum Discount value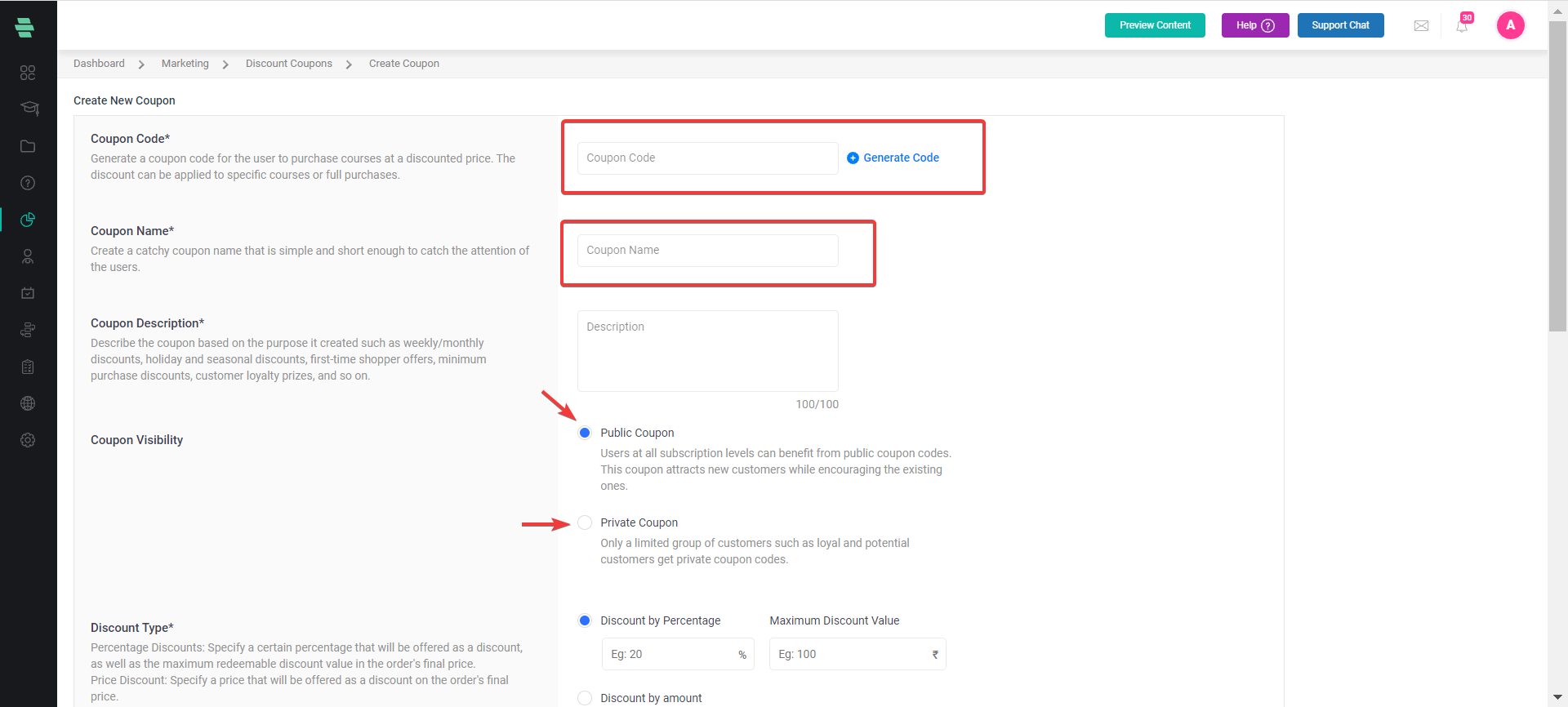 The discount type can also be chosen as All Platform or Customized

All Platform Discount is aimed at giving a discount to all users on their total order price, regardless of the courses they have added. It is applicable to all the items on the platform.

Custom Discounts are tailored to a certain selection of courses, bundles, or events. Choose the course, bundle, or event to which the discount should be applied.

Enter the coupon validity date by entering the Start Date and End Date.

The User can be limited based on the requirement.

The admin can also enable whether the coupon can be used multiple times or not by enabling the Yes(for the coupon to be used multiple times) or No(to not use the coupon multiple times)

After entering all the details, click on Create Coupon and thus the Discount Coupon will be created.

By clicking on the Copy option available near a coupon code, the code gets copied.

You can also Deactivate, Edit, or Delete the coupon if required by clicking on the three dots across the corresponding coupon and then selecting the respective option required as shown below.