This section will list all the courses created on this platform. This page shows the overview of the total training courses with the training code, training course name, training type, website, events scheduled and in progress, Min. met, Min. not met, full and total active bookings.
From the dashboard, go to

Products

Select

Training Course

From the top, select the

Training Course

among the five options.

Click on

Add New Training Course

There will be five steps displayed to create a new training course.

They are General, Website, Registrations, Certificate & Performance, and Email Templates.
a. General -

Admin can enter the basic information like course name, course code, price, general settings, and so on. Click on the

Next

button once the details are entered.

b. Website - This setting will let the admin configure how and what the contents need to be shown to the end-user. The admin has permission to change the visibility here. c. Registration -

The admin has the privilege to configure the maximum and minimum registrations here. Admin can also set the start and end registrations date. If the

IRISH PPS Number

is a must for that course, the admin can enable the Irish PPS number if needed.




(Personal Public Service Number (PPSN) is a unique reference number that is needed for all dealings with public service agencies, including Revenue.)



d. Certificate & Performance -

Admin can provide certificates for the events. Admin can upload the certificates using the

Upload Certificate

option, in the form of a Docx file. There is an option to enter the certificate name, certificate generation type, validity days, and so on. Admin can generate the certificates both manually and automatically. For automatic certificate generation, the system will check whether the attendees satisfy the rules created by the admin for this specific course. A payment option is available for certificate generation. If enabled, the system will check whether the user remitted the fees.




Another feature inside the certificate section is the Course Performance Settings in which we have a new feature of activity enhancement. The admin can add new activities out of it.

You can also enable the Make payment mandatory for certificate generation if payment is required for generating the certificate.

By clicking on Add Activity, the admin can select the activity type like Courses, Assignment, etc.,

If the activity type is Assignment, the admin can give the condition to access the certificate. After giving all the details, click on Save

If the activity type is Course, the admin can select the course and can enable the activity restrictions. After giving all the details, click on Save.



e. Email Templates

- The email templates option enables the Admin to communicate with the learners and tutors through email. Admin should be able to customize each email notification template from the provided system variables. Admin has the privilege to manually send certificates to the learners.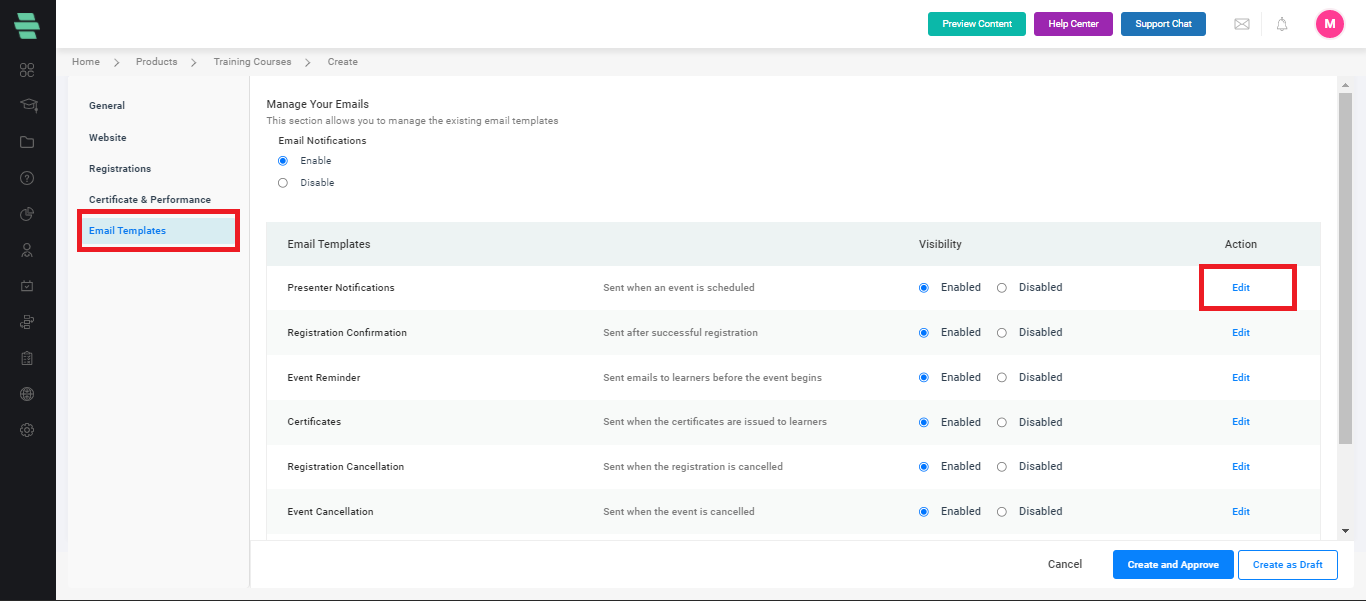 6. Click on Save and Approve so that the training course will be created.