At least one active lecture is required to activate the course!
Upon building your course completion, the content in the course that includes all sections and their respective lectures are Inactive by default. You can activate them by performing any ONE of the following tasks on the COURSE CONTENT page:
Click the dropdown

corresponding to each lecture and choose Activate from the drop-down menu to activate each lecture one by one.

Click the dropdown

corresponding to each section and choose to Activate all from the drop-down menu to activate all lectures in that section.

Note: You can also activate each lecture after creating it and specifying its Access Restriction settings on the right panel. There will be an activate button on the top-right corner of each lecture page.
How to Activate a Course

After activating all lectures and sections, you can activate the entire course.
By default, only active courses will be listed on the courses page.

Select All courses which include active, inactive, and deleted courses.

Click Activate

at the top-right corner of the page and then click Activate to confirm the activation of the entire course at once.

Click the drop-down

icon located at the top-left corner of the page next

to the button to activate the entire course at once.
Once the entire course is activated, learners will be able to use the course for developing their skills.
How to deactivate a course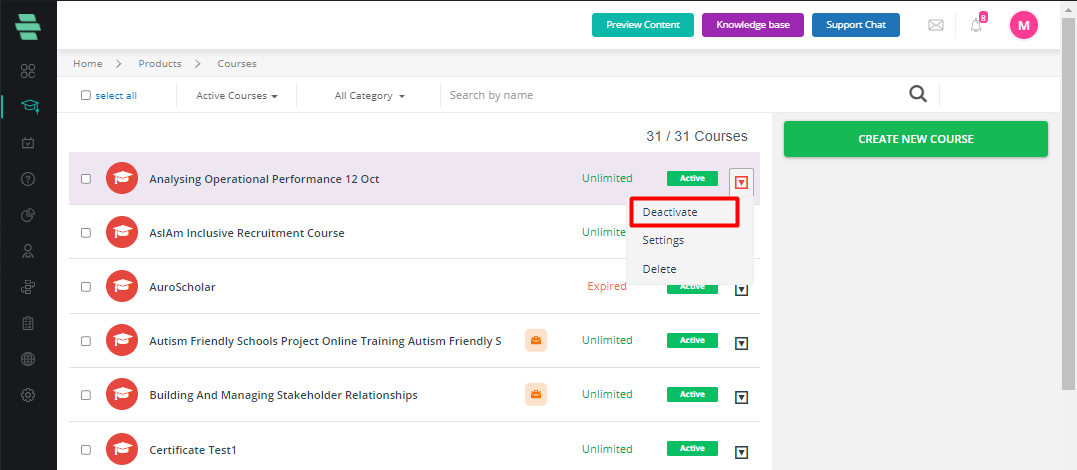 From the dashboard, click on

Courses.

A list of active courses page appears.

Each course has a drop-down on the right end which has three options such as:

Deactivate:

Make a course inactive so that it won't be visible in public.

Settings:

Which redirects to the course settings page

Delete:

Delete the course
How to View All Courses Created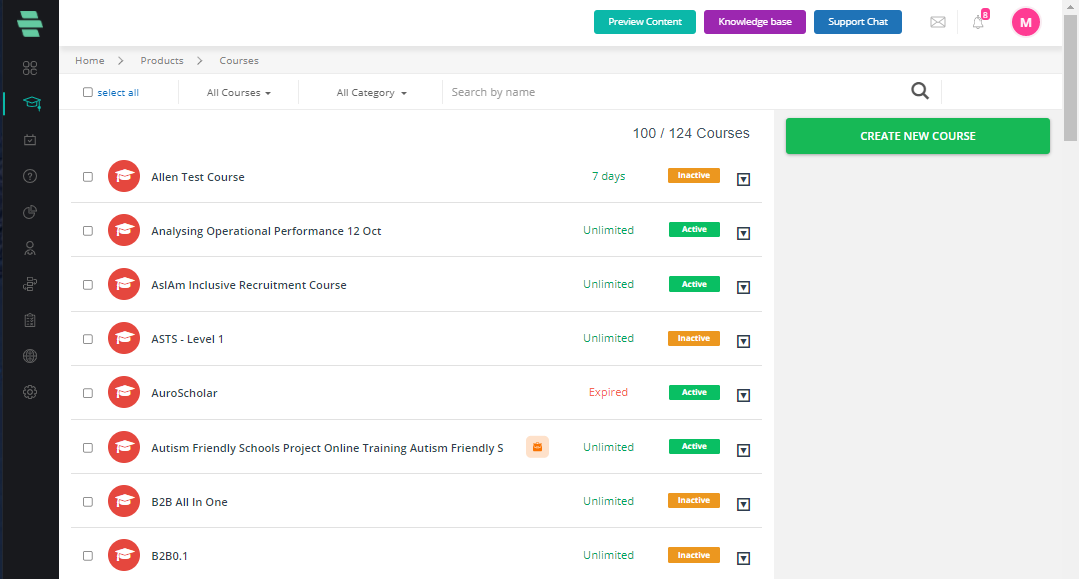 When you click on the course icon, by default it shows those courses which are Active.
There can be Inactive/Deleted courses that you may have created earlier.
To view all the courses on a page, click on All Courses.
All Active, Inactive and Deleted courses will be visible.