Apart from using the dashboard to manage learner accounts, you can also manage them from within a course.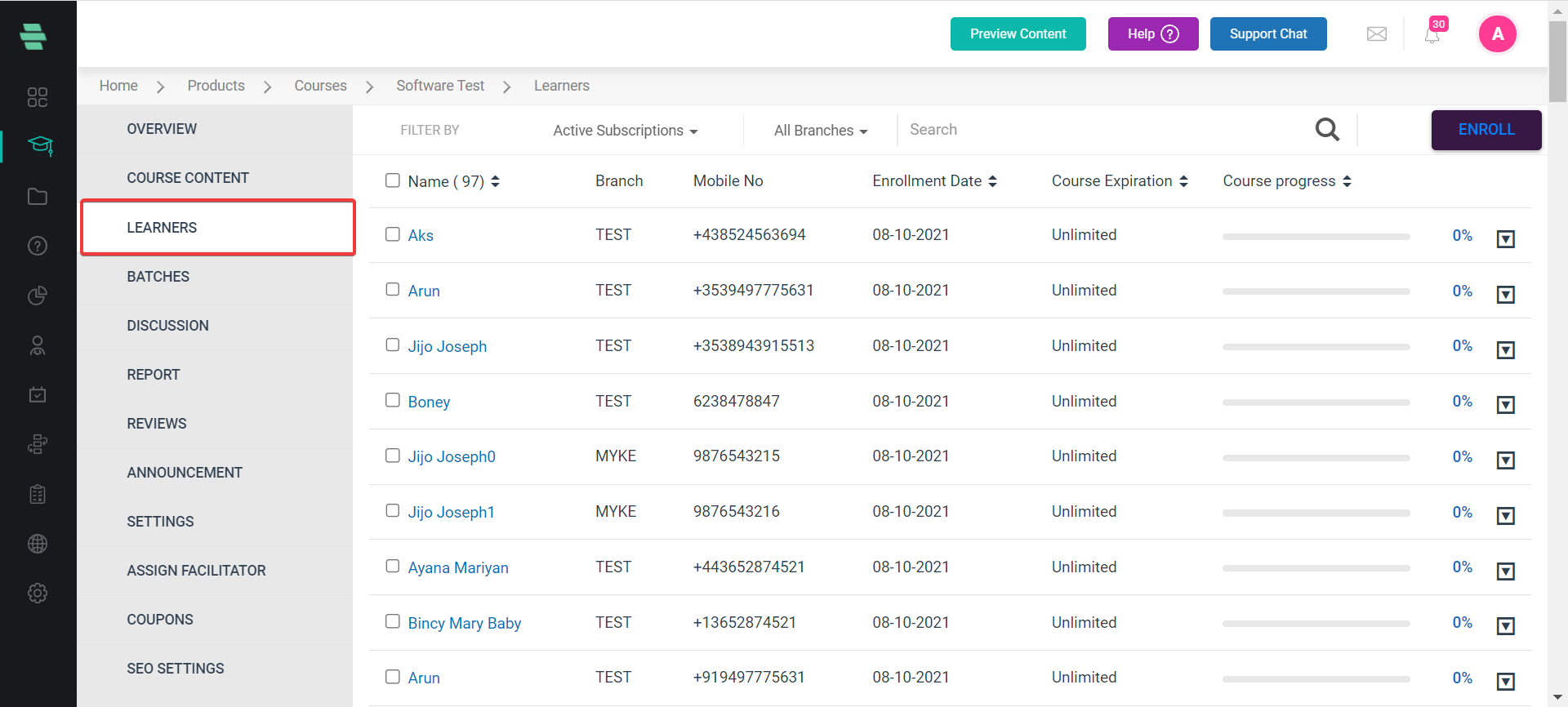 From the dashboard, click on the

Course

icon on the dashboard or the

icon on the left navigation bar.

Click on a course to which the learner is enrolled. The

OVERVIEW

page of the course appears.

Click on

LEARNER

on the left panel.

A list of learner accounts enrolled in that course is displayed based on the filters you select at the top of the page. Default filters are

Active Users

and

All Branches

.

Note:

You can search for a learner by typing the partial or full name of the Learners in the Search box and then clicking

at the top right corner of the page.

Click the

icon corresponding to the Learner account you wish to manage. A list of the following drop-down options appears enabling you to manage the Learners account.

Send Message –

Enables you to send an instant message to the Learners. For instructions, refer to the

How to Send Message to a section.

Change Validity Period –

Enables you to change the validity period of the course to the Learners.

Set as Complete –

Enables you to set a course as complete for the Learners. Click on

OK

when prompted.

Reset Result –

Enables you to reset the course result back to zero for that particular Learner who has started the course. This option is visible for only those Learners whose course completion is more than zero.

Suspend -

Enables you to suspend the learner's account subscription so that they cannot access the course. Click on

OK

when prompted.

Reset Certificates –

Enables you to reset course completion certificates for the learner. Click OK when prompted.

Remove From Course –

Enables you to remove the learner from a course. Click

OK

when prompted.

Block from Forum –

Enables you to block a learner from the system. Click

CONTINUE

and then click on

OK

. You can unblock the Learners by clicking the

Unblock from forum

option. Click on

CONTINUE

and Click

OK

to proceed with the task.

To enroll learners in the course from this page, click on

ENROLL

at the top-right corner of the page.

Select the Learners you want to enroll and click on

ENROLL LEARNERS.

Click on

OK.